Why Locksmith Davie FL?
Locksmith Davie FL is an emergency, 24-hour locksmith service that provides security solutions in the Broward County, Florida area. So if you're looking for an automotive, residential, or commercial locksmith in Davie, feel free to pick up the phone and call us at any given moment. As you probably know, finding a cheap locksmith is not an easy task.. Well, today is your lucky day! We offer a wide range of professional lock services at the most affordable rates you can find online. In addition, each and every one of the technicians at Locksmith Davie FL is certified and experienced in his respective areas. 954-637-0216.
Faster Response for a Better Service!
Everyone needs to get somewhere fast. So if you're in a rush, we recommend you choose the Fastest Local Locksmith Davie, FL has to offer her residents!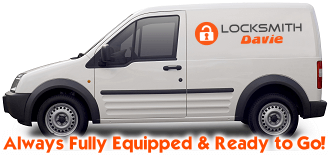 We've been providing locksmith assistance since 2008, helping people to get back into their cars, houses, and offices upon their demands. Whether you need your car unlocked or your house rekeyed, our reliable locksmiths can be at your service within minutes of your call. Don't think twice! The Davie locksmith team knows the streets of your town better than anyone!
Low-Cost $19 Service Call Fee
While speed is a major factor when searching for emergency locksmiths, you also have to make sure that the price fits your pocket. Locksmith Davie FL is the only company that will send a technician to help you for only $19, and won't charge you extra for nights, weekends or public holidays! Sadly, it is very hard for any mobile locksmith to give you a final price over the phone. But you can always get a good idea of how much the job is going to cost by asking our friendly locksmith for a rough estimate!
Auto Locksmith Davie FL
Locked out of your truck? Need a new car key made? Locksmith Davie FL has full-service automotive locksmiths who can unlock car doors, replace your vehicle's ignition or make new transponder keys from scratch! We can also perform key duplications and re-programming. But our locksmiths in Davie, Florida are mostly known for their rapid pop-a-lock service. They are out and about in the Broward County area. So chances are, we have a car locksmith near your location right now! Contact us at 954-637-0216 for quick roadside support.
We Are Open 24 Hours a Day!
No matter what's the time on your clock, our Davie locksmith is ready to help! Unlike the mom and pop locksmith stores, you can count on us to help when you are locked out of your home late at night. It's kind of nice knowing there's a group of trusted locksmiths that work 24 hours a day, 7 days a week. From changing business locks early in the morning, to getting your house lock picked late at night, Locksmith Davie FL got you covered!